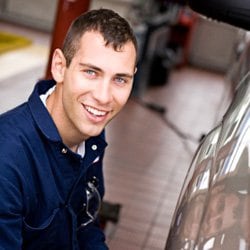 When it comes to servicing your vehicle, especially replacing parts, it is crucial that you don't cut corners and try to use anything that looks like it might fit. Using the incorrect parts can lead to serious problems down the line that could lead to costly repairs. This is why only original equipment manufacturers, hereafter referred to as OEM, parts should be used for part replacements and repair work. At Woody Folsom Ford of Baxley's service and parts center, we carry the most up-to-date, high-quality, 100% authentic OEM parts for every vehicle. If we don't have the specific part that you need, don't worry, we will order it for you right away.
We make ordering OEM parts easy as 1-2-3 at Woody Folsom Ford. Our online form takes only a few minutes to fill out, requiring some basic contact info, basic info about your vehicle (make, model, year, and optional VIN), and at least one part number.
The importance of using OEM parts for your vehicle speaks for itself. We carry a wide selection of OEM parts at Woody Folsom Ford, and we even handle the installation of all OEM parts for you. In addition, our expert staff can answer any questions you have about specific parts.