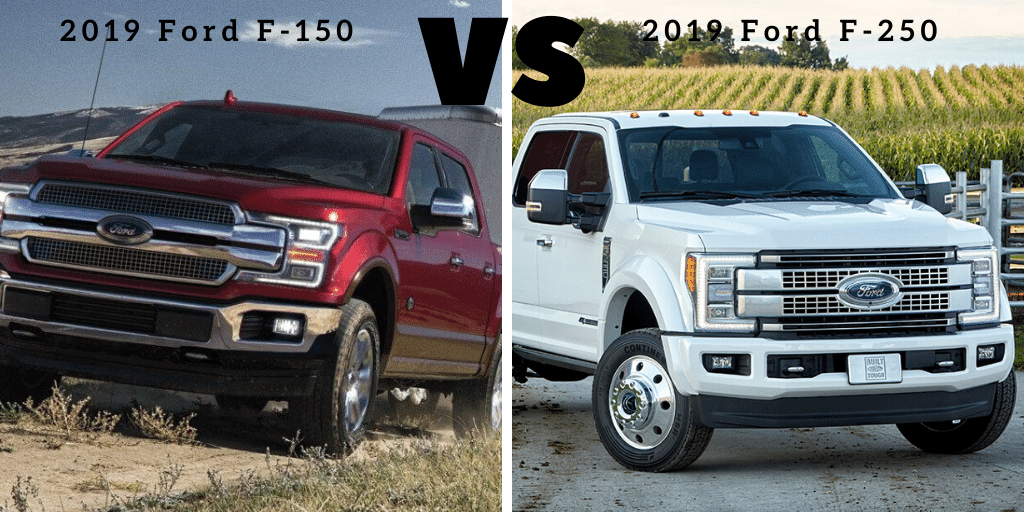 The Ford F-Series is the popular vehicle product line in America. Those in the market for a new full-size truck might be eager to know about the differences between the 2019 Ford F-150 and F-250. Below we'll highlight the relative capabilities of each and focus on the areas in which they differ.

Exterior Design: F-150 vs F-250
The exterior differences are negligible because both 2019 F-150 and F-250 share the same cab style. F-150 drivers can select a short, standard or longer truck bed while the F-250 only comes in the standard truck bed design. F-150 drivers can opt for 22-inch wheels that are not available on the F-250. The F-250 features larger exterior mirrors, sharper grille design, and larger front fenders. Also, the F-250 trim levels are offered with the Super Duty logo. 
F-150 and F-250 Engine Specs and Performance
The Ford F-series are recognized for their efficiency and good performance, which puts them at the top for hauling, towing, and other rough-road work. All this is made possible by powerful engines. 
The 2019 F-150 comes with the standard 3.3-liter V-6 (290 horsepower; 265 lb.-ft.) engines that offer a maximum towing capability of 7,700 lbs. with a maximum payload of 1,990 lbs. For better results, upgrade to the 2.7-liter twin turbo V6 which boasts a massive 325-hp and give you a maximum towing capacity of 9,000lbs. Ford doesn't stop there as the other options only get stronger. Coming in with a more powerful is the 3.5-liter high-output V6 engine (375 hp; 470 lb.-ft.) that produces a maximum towing capacity of 13,200 lbs. and a payload of 3,320 lbs. and the 5-liter V8 engine (395-hp) that offers a maximum towing capability of 11,400 lbs. All F-150s are offered with a 10-speed automatic transmission except for the base-level 3.3-liter V6, which gets a 6-speed automatic.   
The larger and heavier 2019 F-250 has two engine options and you can expect greater towing and payload capacities. The standard 6.2-liter V8 engine produces 385-hp and 430 lb.-ft. of torque and gives you a maximum capability of 17,500 lbs. The upgraded diesel option is a 6.7-liter Power Stroke V8 with an impressive 450-hp., 935 lb.ft. of torque and capable of towing 21,000 lbs. The F-250 engines are paired with a 6-speed automatic transmission. 
Another area where both the models differ is pertaining to the front suspension. The F-150 employs an independent front suspension system while the F-250 together with the Super Duty trims uses a solid front axle.
Safety Features: F-150 and F-250
Whether you pick the 2019 F-150 or the F-250, you can rest easy as safety ranks among the most important factor for any Ford truck. For example, the 2019 F-150 comes with the AdvanceTrac Electronic Stability Control features along with the airbags that safeguard drivers in the event of a crash. The 2019 F-250 offers more advanced security features that include anti-lock brakes, impact airbags, and a security system which senses the use of a fake key providing peace of mind to drivers. Other common features take in:
Automatic emergency braking 
Blind spot monitoring 
Lane departure warning with parking assist 
Forward-collision warning 
Automatic high beams
Which Ford Truck is Right for You in Waycross?
If you're still having a difficult time deciding between the F-150 vs. F-250 then one thing to consider is how much you will be towing and hauling on a daily basis. If you need to tow heavy loads with regularly, then F-250 might be a better investment than F-150. The F-150 is suitable for a majority of people, offering impressive fuel economy and more comfortable driving dynamics owing to its lighter duty engines. 
If you still can't decide, stop by Woody Folsom Ford today to see the differences in person.