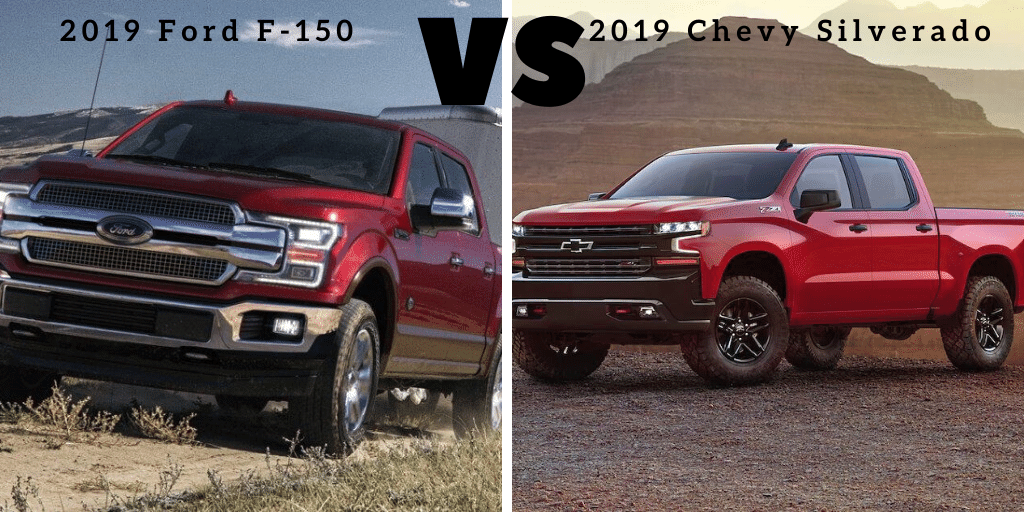 If you know anything about trucks, you probably know practically everything about the 2019 Ford F-150 and 2019 Chevrolet Silverado because these two are the most successful vehicles in America. Fresh off a THOROUGH redesign, the Silverado is fresher than its crosstown challenger. The F-150 was last revamped in 2015 when it added an all-aluminum body and bed. 
See which full-size pickup comes out on top in a variety of categories including real-world fuel economy, on-road performance both loaded and unloaded plus impressive features and amenities that are a lot to get through.
Most importantly, both are powered by downsizing turbocharged gasoline engines displacing an identical 2.7-liter. Silverado features a brand new inline-4 and the F-150 comes with a familiar EcoBoost V6. With advanced transmissions and significant weight reductions, these power plants promise greater performance and efficiency than traditional V8.
The Chevy arrived in mid-range LT trim 4-wheel drive and extended cab body and 6.5 ft. long bed. Ford provided us with the mainstream XLT model which is also fitted with 4-wheel drive but prioritizing passenger comfort over payload capability, it has a larger crew cab body with a 5.5 ft. long cargo box.
For the most part, these pickups stack up well but pricing is one place where they do differ a little. Including destination, the Chevy here checked out at $49,365 while the Ford is priced at $54, 850.
Engine Specs, Performance & Fuel Efficiency
2019 Ford F-150 Engines
3.3L Ti-VCT V6: Makes up to 290-hp and 265 lb.-ft. of torque
2.7L EcoBoost V6: Makes up to 325-hp and 400 lb.-ft. of torque
5.0L Ti-VCT V8: Makes up to 395-hp and 400 lb.-ft. of torque
3.5L V6 EcoBoost: Makes up to 375-hp and 470 lb.-ft. of torque
High-Output 3.5L EcoBoost V6: Makes up to 450-hp and 510 lb.-ft. of torque
2019 Chevy Silverado Engines
2.7L Turbo: Makes up to 310-hp and 348 lb.-ft. of torque
5.3L V8: Makes up to 355-hp and 383 lb.-ft. of torque
6.2L V8: Makes up to 420-hp and 460 lb.-ft. of torque
The standard engine in the F-150 helps the truck attain an EPA-estimated 19 city/25 highway MPG. The Silverado 1500 falls just a bit behind with an EPA-estimated 15 city/20 highway MPG.
Towing Capability
When properly equipped, the F-150 leads the way with a maximum 13,200 lbs. towing capability. On the other hand, the Chevrolet Silverado has a maximum towing capacity of 12,500 lbs. Also, it has a maximum payload capability of 2,500 lbs. while the F-150 can hold up to 3,270 lbs. in its truck bed.
Each truck offers plenty of features to make towing easier. For example, they both feature Tow/Haul Mode. This will adjust transmission shifts to reduce shift cycling when towing or hauling heavy loads.
The 2019 F-150 has a Pro Trailer Backup Assist which you won't find on the Chevy Silverado 1500.
Technology
The 2019 Ford F-150 is smarter than the 2019 Chevy Silverado with features including:
360-Degree Camera with Split-View Display: Offers a 360-degree bird's-eye view for easier low-speed maneuvering 
Class-Exclusive Pro Trailer Backup Assist: Reversing in the Waycross area with the trailer attached? The 2019 F-150 makes things easier and safer
The Chevrolet Silverado 1500 is an impressive truck. However, the Ford F-150 has a more powerful performance and better towing capability. But to help decide if it's right for you, you should check it out in person.
The Final Verdict
In terms of comfort, power, trims, configurations, and features, the 2019 Ford F-150 and 2019 Chevrolet Silverado matches up fairly. If you need more towing, payload, or off-roading capacity, or you want the most horsepower, the F-150 emerges the clear winner. Also, F-150 offers a few more modern tech systems to help in towing, parking and trailering.
Schedule a test drive at Woody Folsom Ford today!