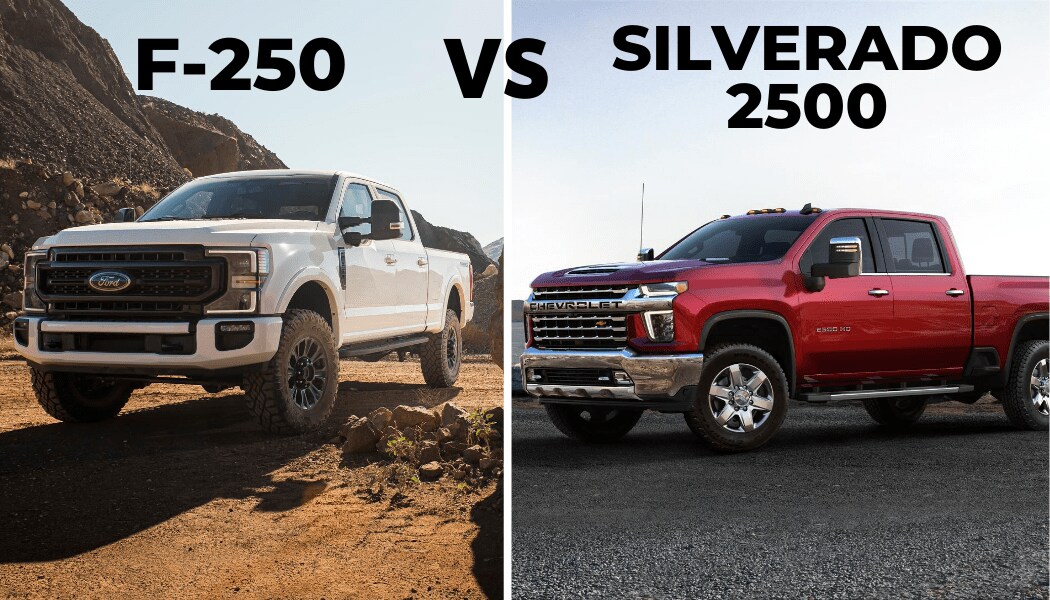 Ford versus Chevy is a rivalry that extends back for decades. And there are arguably no two models that demonstrate this rivalry like the two brands' most popular models: the F-Series trucks and the Silverado suite. Today, we're going to look at some hard stats to see which heavy-duty truck truly comes out on top.   
We'll take a look at the engine options, towing capability, performance specs and more to help you decide which heavy-duty pickup is right for you. If you're having trouble deciding between these two famed models, just keep reading!
Ford F-250 vs Chevrolet Silverado 2500: Engine and Performance
If you're trying to decide between two heavy-duty pickups, then it's probably power and performance you're really looking for. And if you're leaning toward the Silverado, we have some bad news for you: the F-250 leads the Silverado by at least 25 horsepower and 50 lb-ft of torque.    



| | |
| --- | --- |
| F-250 | Silverado 2500  |
| Standard 6.2L V8 engine  | Standard 6.0L V8 engine  |
| 385 horsepower  |  360 horsepower |
| 430 lb-ft of torque  | 380 lb-ft of torque  |
When it comes to the diesel engines, the F-250 offers a 6.7L Powerstroke® V8 Turbo Diesel, and the Silverado a Duramax® 6.6L Turbo Diesel V8.   
Both engines offer at least 440 horsepower, but the F-250 again pulls slightly ahead with 925 lb-ft of torque compared to the Silverado's 910 lb-ft of torque.    

Silverado 2500 vs F-250: Which Truck is More Durable?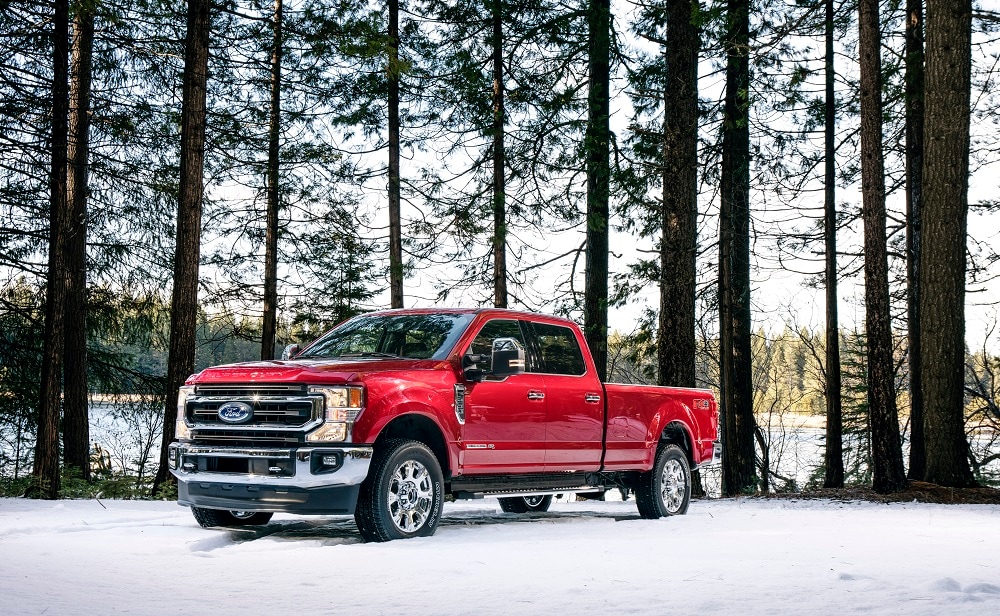 Both the Ford F-250 and the Chevrolet Silverado 2500 are built for those who need a truck more durable than a light duty pickup. However, there are some major differences in the design and engineering of both trucks. The Chevrolet Silverado is built with seven different types high-strength steel to maximize the truck's strength and durability.   
While the Chevy Silverado offers some steel construction, it simply can't compare with the F-250's military-grade, aluminum alloy body. The use of aluminum leaves the truck much lighter than previous generations and also allows for the weight of the F-250's high-strength steel frame.    
Comparing Trim Options: F-250 vs Chevy Silverado
When it comes to trims, the Ford F-250 offers five trim levels as well as an additional FX4 off-road package: 
XL 
XLT 
Lariat 
King Ranch 
Platinum     
Meanwhile the Silverado has only four trim levels:     
However, the Silverado has many special editions and packages to choose from. When it comes to sheer options, the Silverado is the winner here, but the Ford F-250 has some technology features available on the base model that really stand out such as: 
Blind Spot Monitoring
Ultimate Trailer Tow Camera System
Truck and Trailer Tire Pressure Monitoring System
Responsive Rear View Camera Towing Guidelines    
Check Out the Ford F-250 Super Duty at Woody Folsom Ford
Is the Ford F-250 is the right heavy-duty truck for you? Head over to Woody Folsom Ford in Baxley, GA to take it for a test drive to find out. We'll be happy to help you select the trim and options that work best for you and help you through the financing process.   
Check out our inventory online here or contact us to let us find the perfect truck for your needs.