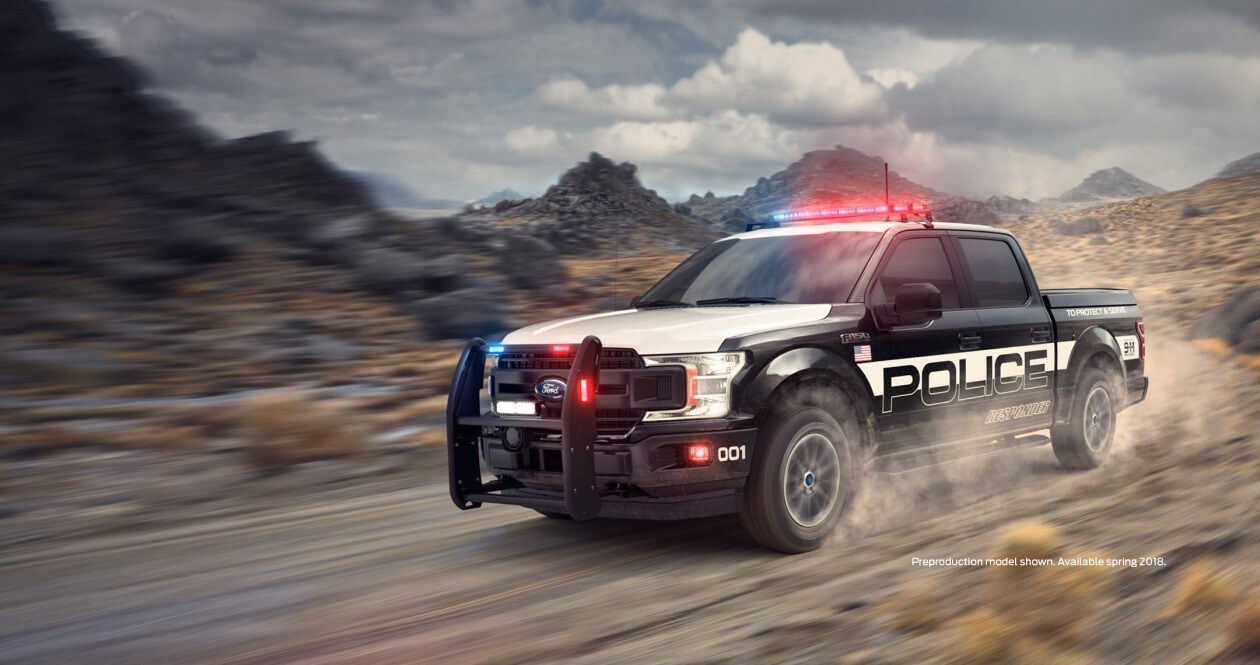 Hailed as a more capable and versatile patrol vehicle, the F-150 Police Responder is the result of almost seven decades of on-the-road, law enforcement experience. Even so, the 2017 Police Responder isn't limited by roads. This vehicle comes equipped with the power, features, and off-road capability to dominate virtually any terrain. Continue reading to learn more about the new F-150 Police Responder. 



Power & Capability to Pursue
The new Police Responder boasts the ability to topple speeds over 100 MPH. This aggressive power is made possible by the highly efficient 3.5-liter EcoBoost engine that delivers up to 375 HP and 470 lb.-ft of torque - more than any other law enforcement vehicle rated for pursuit. 


The power of the EcoBoost engine is commandeered by an intelligent 10-speed automatic transmission, which offers four-wheel drive for all-terrain police performance. The transmission also includes settings for:


Normal
Snow/Wet
Tow/Haul  
Sport
EcoSelect
The Law Doesn't End Where the Pavement Stops


Inspired by the F-150 FX4 off-road model, the F-150 Transponder boasts a 145-inch wheelbase on a revolutionary body-on-frame construction bolted to the high-strength, fully-boxed steel frame. The F-150 Police Responder finds the perfect balance of military-grade, aluminum alloy throughout the body and bed to deliver a truck that's purposefully designed for virtually any condition. 



It's an Internal Affair
The 2018 F-150 Police Responder offers an expansive 131.8 cu.-ft. of interior space, which is more than any other police vehicle rated for pursuit. It boasts Best-in-Class rear and front hip room and shoulder room as well as leg room. 


The front seats are uniquely engineered to accommodate police officers who wear a duty belt. Most importantly, the front seat backs are enhanced with anti-stab plates. Cleaning the vehicle is simplified by heavy-duty vinyl flooring and rear seats. 


Duty-Driven Upgrades for On-the-Job Performance


The 2018 F-150 Police Transponder is uniquely designed to transport law enforcement and equipment to and from the most remote locations. To ensure it's up to the task, the vehicle offers an array of components to meet your department's unique demands, including: 



Metering - The Transponder's speedometer is uniquely calibrated for law enforcement use. An engine idle-hour meter and engine-hour meter are both offered as standard. 
Power - With a standard towing capacity of 7,000 and a payload of 2,030 lbs., you'll enjoy the best-in-class of any pursuit-rated police vehicle. 
Electrical - Extended idle times and additional onboard electrical power can be accommodated by a high-output 240-amp alternator.
Braking - Upgraded calipers are incorporated into an advanced brake system. The vehicle also includes specialized brake pads that use unique friction materials designed exclusively for pursuit applications. 


Contact Woody Folsom Ford in Baxley, GA
Woody Folsom Ford in Baxley, GA is proud to serve our local law enforcement agencies. Although the 2018 Ford F-150 Police Responder will not be available until spring 2018, we would be happy to discuss the vehicle with you in more detail. 


Contact Woody Folsom Ford in Baxley, GA today by calling us at 855-675-1053 or by completing our online contact form. You can also stop by and see us in person. We're conveniently located at 1633 Golden Isles W, Baxley GA 31513.